Karatto-kun is a frying oil degradation prevention device
Karatto-kun can be applied and installed fryers with 10ℓ to 3000ℓ capacity.
We have installed Karatto-kun in fryers more than 10,000 stores and factories.
It can be applied to electric fryers, gas fryers and large continuous fryers.
The input voltage is also compatible from 85 to 260V, so it can be used not only at restaurants, but also in mass production factories either domestic or overseas.

*For large fryers, it will be manufactured as a custom order.
| | | | | | | | |
| --- | --- | --- | --- | --- | --- | --- | --- |
| Type | Price | Capacity | Size | Output | Power consumption | Weight | Stock |
| Unit for a Single Tank (incl. electrode) | Contact us. | up to 25ℓ | W210×H145×D80(mm) | -2500v | 1.8w | 1.4kg | ○ |
| Unit for Two Tanks (incl. electrode) | Contact us. | up to 50ℓ | W210×H145×D80(mm) | -2700v | 1.8w | 1.5kg | ○ |
| For Large-scale Tank | Contact us. | 200ℓ~500ℓ | W210×H295×D100(mm) | -3000v | 1.8w | 3.2kg~3.5kg | – |
※The price table excludes installation costs
Test Result
Significant reduction in oil smoke and oil odor!
Karatto-kun® suppresses production of substances that cause smoke and odors.
The left graph, research by Miyagi University*, shows substances that cause unpleasant odors, such as decadienal generated when linoleic acid and oleic acid are oxidized and decomposed, can be reduced by about 50% in average.
*Data validated by Prof. Masazumi Nishikawa, the Faculty of Food Industry, Miyagi University
Shorter frying time, lower set temperature!
Karatto-kun® improves thermal conductivity. Photo 1 and Photo 2 show temperature distribution in a fryer with / without Karatto-kun® respectively.
Just by turning on Karatto-kun®, it was confirmed that the temperature immediately rose in a wide range.The croquette in Photo 1 is the result of an experiment in which the croquettes were fried at the same temperature and for the same time with and without Karatto-kun®.
It shows that the one with Karatto-kun® on the right was fried faster.
Photo 2 shows the temperature distribution in the fryer oil tank.
Just by turning on Karatto-kun®'s switch, we were able to confirm that the temperature uniformly and quickly rose in the wide area.
In summary, Karatto-kun®;
①shortens frying time by using the set temperature as it is.
②fries foods well even if the set temperature is lowered. By lowering the temperature, the oxidation can be greatly suppressed.
Download the file for detail
Products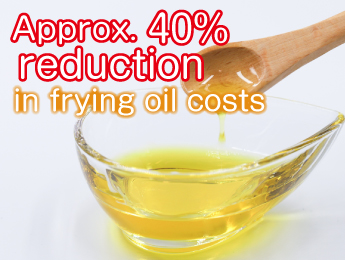 Significant reduction in consumption of frying oil!
The electrons strongly suppress the oxidation of oil, so the oil lasts longer!
The average cost reduction rate is 40%! How much does cooking oil cost in your shop or factory?
If you can cut your cooking oil costs in half, why not transfer the net profit generated toward other capital expenditures and benefits? Profit is generated from the month of introduction, so the initial cost can be offset in the very short term.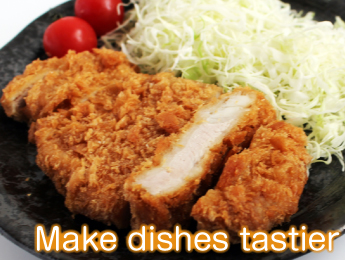 Fry tastier!
The key of delicious fried foods with batter is "crispy outside and juicy inside".
Karatto-kun® quickly evaporates the moisture contained in the batter with electricity, that's why it locks taste inside. Isn't it difficult to fry deep-fried foods such as cream croquettes, fried oysters and shrimp tempura to make them fluffy? Karatto-kun makes batters well, so the ingredients will not escape.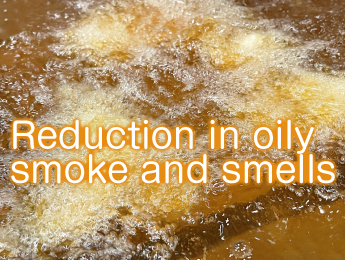 Oily smoke and smell are significantly mitigated!
Oily smoke is a harmful gas produced by oxidation of oil at high temperature and it hurts your eyes. If you use Karatto-kun®, you can fry it well even if the temperature of the fryer is lowered by about 5 to 10℃.
Oil odor is also caused by oxidation of oil.
As Karatto-kun® significantly suppresses the oxidation of oil, annoying odors on clothes and hair are also greatly reduced.
Simplified image of effect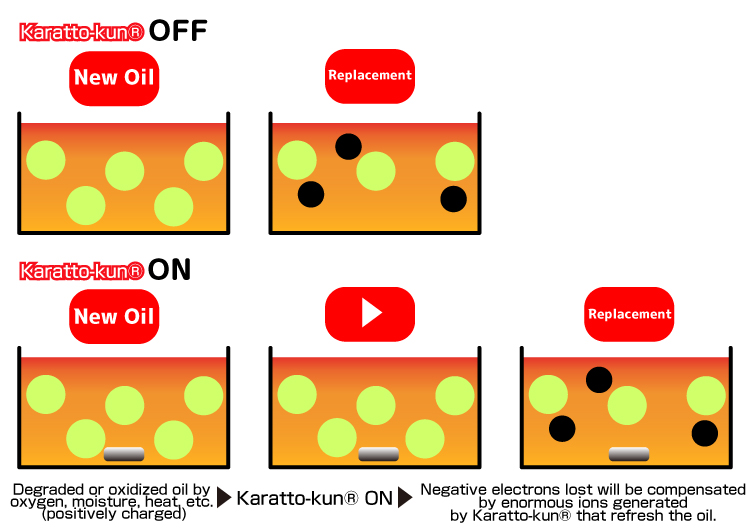 Reference