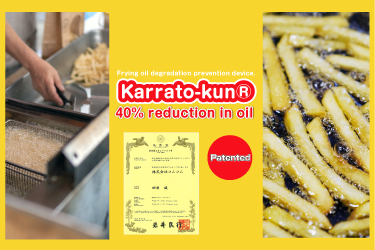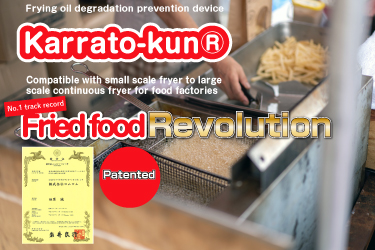 Karatto-kun is a frying oil degradation prevention device
News

カラット君

第二回公募のお知らせ|輸入小麦等食品原材料価格高騰緊急対策事業

輸入小麦等食品原材料価格高騰緊急対策事業(二分の一負担)の第二回公募を開始致します。申請受付期間令和4年9月13日(火)~ 同年10月14日(金)17:00公募期間内であっても、予算額に達し次第、公募を終了します。

第32回西日本食品産業創造展22に出展が決まりました!

当展示会になりますwebサイト【食展Online2022】に当社webページも掲載されました。 西日本最大級の産業見本市であり、食に関わる様々なカテゴリー別で多くの企業様が出展されます。開催日時等の詳細についてはご確認よ […]

パンフレットが配布されました。 多くの企業様が出展一覧に掲載され、展示会スケジュール等がご確認できるようになりました。ご来場の際には事前登録が必要になりますのでご登録お願いします。是非ともご来場お待ちしております。
480yen / 1,000g(Dec. 2022)
Frying oil price trend in Japanese domestic market
In Japan, the price of cooking oil for fried foods has been raised five times in the last year due to decrease in the production of raw materials caused by the global climate change, escalation of fuel costs, increased demand in the global market. The price of cooking oil has soared up to twice as much as last year.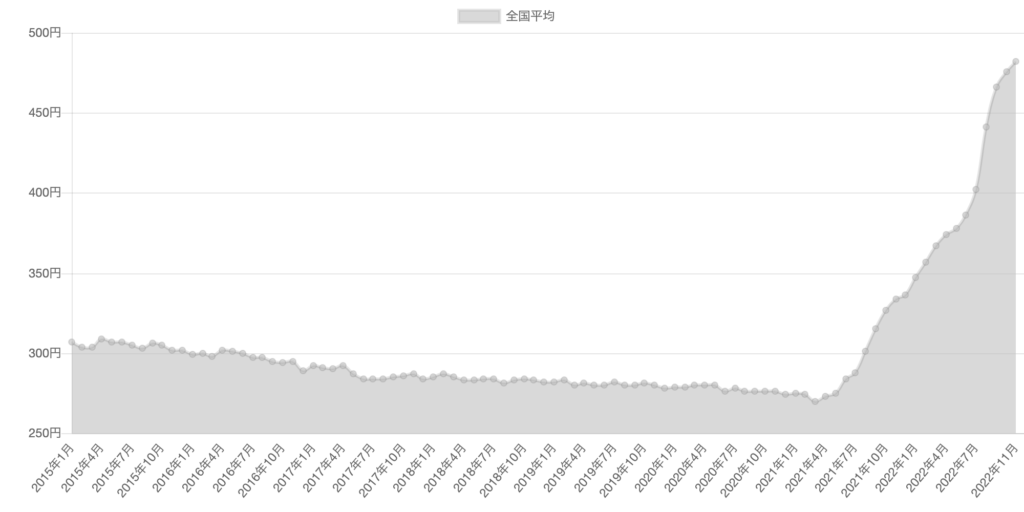 Let Karatto-kun® save your money right now.
Advantages of Karatto-kun®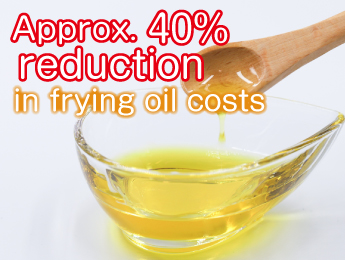 Significant reduction in
frying oil consumption
The biggest enemy who causes oil oxidation is "heat"
Karatto-kun® generates a high potential with a particular frequency from the electrode plate.
Then, convection by electrons that efficiently transmits heat is generated.
Thus, required set temperature can be lowered and oil degradation caused by heat will be eventually prevented as the heat conduction will be improved. It is said that if the set temperature is lowered by 10°C, the oil oxidation speed will be halved.
*We suggest to lower the set temperature by 5℃ to 10℃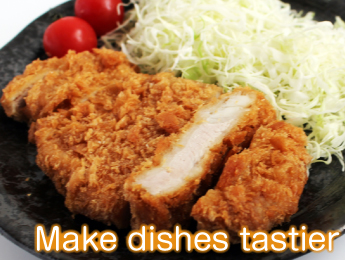 Crispy batter due to uniform
transmission of heat
Electron convection stirs the oil evenly in the fryer, mitigating heat unevenness. The moisture contained in the batter evaporates more efficiently, resulting in a fine and crispy batter. By creating a solid batter with an even texture, the original flavor of the ingredients is confined in the batter so you can make an ideal deep-fried dish.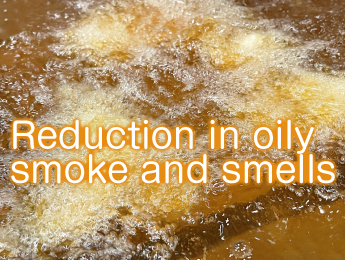 Oily smoke and smell are
significantly mitigated!
Oily smoke is a harmful gas produced by oxidation of oil at high temperature and it hurts your eyes. If you use Karatto-kun®, you can fry it well even if the temperature of the fryer is lowered by about 5 to 10℃. By lowering the temperature, oily smoke is drastically reduced.
Oil odor is also caused by oxidation of oil. As Karatto-kun® significantly suppresses the oxidation of oil, annoying odors on clothes and hair are also greatly reduced.



Working principle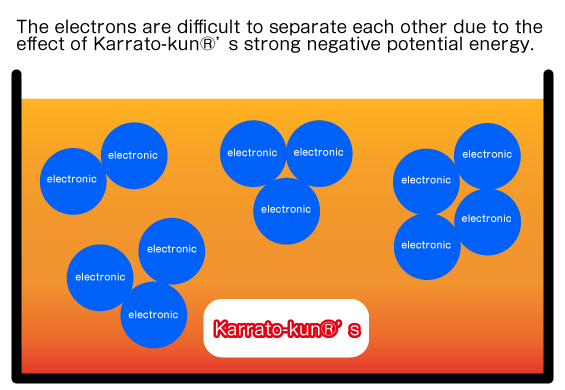 Oil molecules do not release negative electrons.
So, it prevents oxidization.
In the chemistry, the loss of negative electrons is called oxidation. Oxidation of cooking oil also proceeds by losing electrons, but Karatto-kun® prevents electrons from jumping out of cooking oil molecules in a fryer by emitting large number of electrons from the electrode plate (If you compare it to an "electron bath"). Therefore, the cooking oil will be less likely to combine with other ingredients and you can keep the original flavor of cooking oil.
Even if the oil turns black, the product will be fried beautifully.
When molecular bonds occur, carbon (carbonized state of batter, fried powder, ingredients, etc.) adheres to the product, turning it black. Karatto-kun® generates a negative high potential in the oil tank to dissolve molecular bonds, making it difficult for carbon molecules to stick to the product.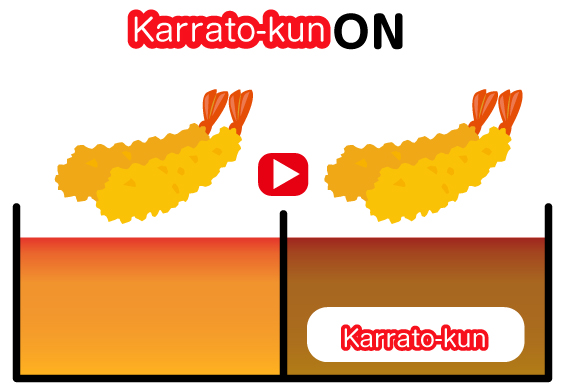 The batter is crispy and the inside is fluffy.
Karatto-kun® generates a high potential with a particular frequency from the electrode plate. As electron convection occurs and heat is effectively transferred to the ingredients, so the moisture in the batter quickly evaporates, making the batter crispy.
Customer feedback
A certain fast food restaurant chain
Introduced to 280 restaurants nationwide.
After installing Karatto-kun®, the frying oil is less likely to get dirty and the product color has become even more beautiful. The product can be fried crisper than before, and the crispiness of French fries can be maintained for a longer time. Most of the oily smoke and oily odors have disappeared, and the environment of the restaurants has been much improved.
A certain restaurant
This is the first restaurant to introduce the frying oil oxidation prevention device "Karatto-kun®". Firstly, we tested it by frying French fries using oil already deteriorated to some extent, but I was surprised to find that they were nicely fried. It drains oil well and maintains its crispy texture. In addition, the duration of continuous use of oil was extended, so we decided to introduce it.
A certain tempura factory
In the past, we introduced another food oil oxidation prevention device using a transformer as a trial, but that caused breakdown in the fryer's instruments and it ended up in a huge loss. Therefore, we vowed that we would never repeat it again. After hearing information about the performance of Karatto-kun®, we tested it and we found out greater benefits than what described in the catalog so we decided to adopt it.
As a result, we succeeded to reduce the consumption of frying oil for two 350-liter continuous automatic fryers to less than half thus it leads to a significant cost reduction. We are currently using a digital measuring instrument to measure the deterioration of oil, and the deterioration value is kept low by using the frying oil oxidation prevention device "Karatto-kun®" even if the oil is continuously used for a long time. All the staff are happy that the working environment has been improved as oily smoke and oily smell in the factory has drastically decreased.
In addition, I like it because oil drains off products better and the crispness lasts longer.
Hats off to the excellent quality of "Karatto-kun®".
A certain Tonkatsu restaurant chain
Tonkatsu, fried shrimp, fried oysters, whatever you fry, the color is beautiful and delicious. The deterioration of cooking oil is also suppressed, and the frequency of replacement to new oil is reduced, so it can be used for about twice as long as before. It helped us a lot by reducing expenses. The temperature of the fryer has been set by 5 to 7 degrees lower than before. The female staff at the store are very happy that their hair and clothes no longer smell of oil. I was surprised that the results were exactly as the manufacturer said before the test, and everything written in the catalog was true. We experimented various similar equipment in the past, but it was the first time for us to see such a great product.
A Certain fried chicken
restaurant chain
As the fried chicken food industry is a low-cost business, cost reduction was a primary issue for us. When the first store at Shibuya Center Gai was opened, to reduce expenses of oil, we introduced an AV (oxidation) down agent, which is said to prevent oil deterioration, however, we could not confirm such an effect, and moreover, the relevant monthly running cost reached nearly 30,000 yen. In addition, every day after the store closed, the oil had to be filtered while it was still hot, which took 20 to 30 minutes but such additional work was too heavy for female staff and also too dangerous as it had to deal with hot oil. So, I found the oil oxidation prevention device "Karatto-kun" on the web. Since the manufacturer offers a trial for free, we requested them to dispatch a person in charge and tested it for two weeks. After having used it, our impressions on Karatto-kun® were "it drains oil well, fries chickens crisper, and specially the quality of oil was maintained at least for a week although it used to become heavy and bad odor in 3 days. We were told that the trial period would be two weeks, but we quickly decided to introduce it with only one week trial period.
A Certain bento side dishes factory
Of all side dishes, the quality of bento is depending on fried food. It takes a certain time to reach customers as we start frying at 3:00am in the morning. It will become deformed and result in a loss of good texture. Also, we were struggling with a large amount of oil remained at the bottom of the tray in the kitchen. Thinking that it might be possible to resolve this problem with Karatto-kun®, I tested it and was surprised at how well it drained the oil and produces a crisp finish. We introduced it in all our factories as we confirm that the performance was exactly same as the high reputation. With the introduction of the oil oxidation prevention device Karatto-kun®, the amount of additional oil required has been reduced by half, and there was no excess frying oil on the batter of deep-fried food, and only a small amount of oil sticked to the paper. It also made cleaning the fryer easier. Moreover, we used to add 5.5 to 6 cans of 18 liters oil every day, but it has been reduced to about half, only 3 cans. The benefit of cost reduction is significant, so we introduced it to all our factories.

The models compatible with capacity of 10-3000 liters fryer are available in Karatto-kun® series
We have proven record of over 10,000 units for individual shop fryers
as well as large-scale continuous fryers for food factory
Installation and Safety
Place Karatto-kun® with a dedicated stand or fix it to the wall in a place where it does not get in the way.
Take the power supply (100V or 200V).
"Electricity bill is about 5 to 10 yen a month. (in Japan)
Karatto-kun® consumes less power, so the running cost is low.
Insert the plug of the cable extended from the electrode plate into the white jack at the bottom of the main unit.
Place the electrode plate in the oil as shown in the illustration.
Turn on Karatto-kun's switch and you're done.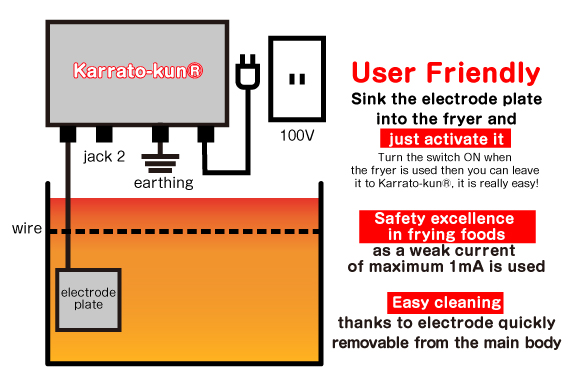 Simulator
Cost per month for cooking oil
Contact
* If you request a demonstration, please fulfill a Survey Sheet.
Representative: Minoru Tanaka, President & CEO
tanaka@comcom-eco.co.jp